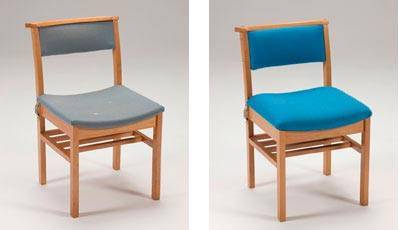 We frequently hear from people who say, "We need to replace our 25-year-old church chairs as the fabric has worn out. It's a shame because the chairs are still solid". This is when we point them in the direction of our reupholstery service. We can supply brand new seat and back pads, with new boards, foam and fabric, for virtually any chair regardless of whether the original chairs were bought from us or not. As wooden framed chairs vary in their construction, it would probably be best to email us a photograph of the chair.
We offer 3 levels of reupholstery service:
Level 1: A single set of pads (seat and back) are sent to the factory to use as a template. The new pads are then delivered to you for fitting to the chairs (often just 4 screws per pad).
Level 2: The chairs are collected in batches of approximately 40-50 (to make sure you still have something to use on Sunday morning) and returned with brand new pads fitted within 2-3 weeks.
Level 3: (Timber framed chairs only) are reupholstered as per level 2, with the frames sanded and re-lacquered – for chairs that are particularly knocked or dirty.
"I have seen the refurbished chairs and just wanted to say thanks for a good job done. The chairs look much better and I have had positive feedback. Thanks again" – Ipswich United Reformed Church.